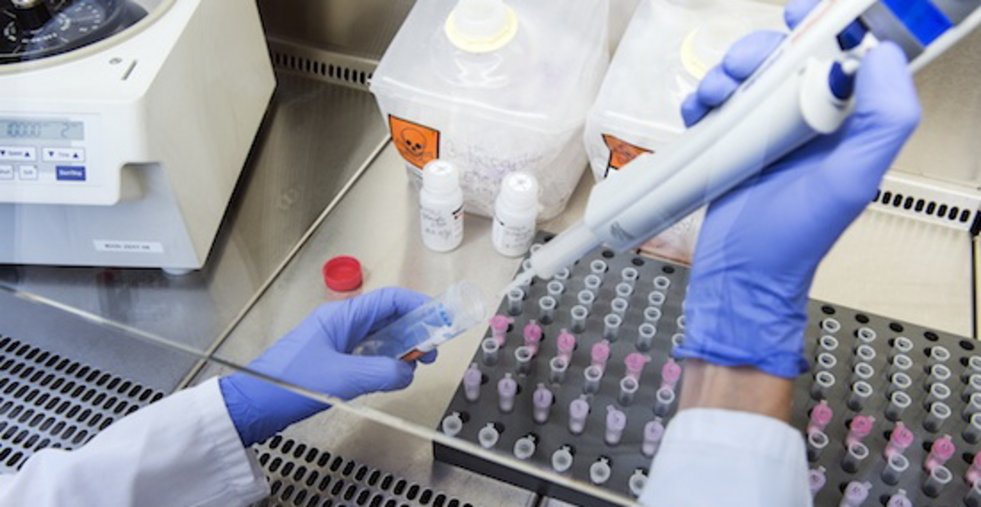 The department Medical Genetics of the MVZ Dr. Eberhard & Partner Dortmund deals with the examination of hereditary and acquired diseases with a genetic background. We have the latest analysis methods for cytogenetics, molecular cytogenetics and molecular genetics for the analysis of human chromosomes and DNA / RNA.
A team made up of 78 human genetics specialists, scientists and medical staff provides human genetic analyses for national and international respondents. Laboratory analytics is subject to stringent quality control and holds accreditation by the German accreditation council, Deutsche Akkreditierungsstelle DAkkS.
The current accreditation certificate will gladly make our QM office available to you on request.
Focus of the Human Genetics at the MVZ Dortmund
Chromosome analytics (classical and FISH), molecular genetics, DNA array, NGS/ Next generation sequencing, molecular pathology
Tumor genetics, hereditary cancer syndrome: Breast & ovarian carcinoma, bowel cancer, AFAP, MEN I/II etc.
Leukaemia diagnostics
Hereditary fever syndrome: Mediterranean fever, TRAPS etc.
Hereditary dementia diseases: Frontotemporal dementia, Alzheimer's disease and others
Spherocytosis
Haemoglobinopathy
Unfilled desire to have children and abortion diagnostics in the case of repeated miscarriages
Hereditary diseases / monogenic diseases e.g. Marfan syndrome, Huntington's disease, hereditary cancer disposition etc.
Childhood development disorders and/or deformities
Pharmacokinetics: Examination of genetically caused effect restrictions or medication intolerance (Toxicity and resistance)
Genetic consultation and pregnancy guidance
Clinical Lab Request for download and print
To request analyses from abroad, please use this form Clinical Lab Request.
109 KB pdf
Registration Human Genetics
Appointment for the human genetic consultation hour
Dr. med. Annemarie Schwan
Dr. med. Stefanie Schön
Dr. med. Judith Kötting
Hansastr. 67 (Hansakontor Garteneingang)
44137
Dortmund
To request analyses from abroad, please use this form Clinical Lab Request.
109 KB pdf
718 KB pdf
2 MB pdf